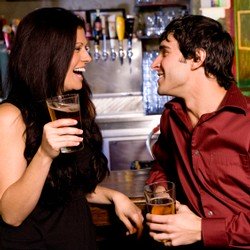 As with any situation when meeting a "stranger" for the first time being cautious is the best option. The first face-to-face meeting with someone you have been talking with online for some time can be exciting and seem like you are meeting an old friend, but remember this person is still a stranger, even if you feel you know them well. Your safety should always be your number one priority and don't let the thought of meeting your new love get the better of you or your judgment.
The following are steps you should take to ensure your safety when meeting a new person for the first time.
Meet in a public place
When first meeting face-to-face, ALWAYS arrange to meet in a well known public place and make sure it is somewhere you are familiar with. If your date has chosen the location and you are not completely familiar with it, maybe go there a couple of days beforehand and check it out. See how busy it is and how friendly and helpful the members of staff are.
Tell a friend
Make sure a family member or friend knows exactly where you are going to be, who you are meetings and roughly what time you should be back. Never change the location at the last minute without telling this person. Let your date know your meeting is not a secret, maybe mention how excited your friend was to hear about your date. Contact your friend or family member after your date or ask them to contact you at a prearranged time. You could always phone your friend or family member during your date if possible to confirm all is fine.
Take your mobile phone
Always take a mobile phone on a date with you. If you don't have one, you could buy one, for about £30 you can get a basic pay-as-go phone and it could prove very useful. Alternatively, you could borrow a friend's phone. Always make sure it is fully charged before you leave for your date and if it's a pay-as-go phone, make sure you have plenty of calling credit.
Don't get drunk
Stay in control of the situation and don't get drunk. Getting drunk will impair your judgement and therefore put you at risk. Try to stick to non-alcoholic drinks during your first face-to-face meeting, and remember no one enjoys being with a drunk anyway.
Make your own travel arrangements
Whether you're meeting nearby or further away, always make your own travel arrangement, never accept to be picked up by your date and never let them arrange transport for you. If needs be, have a friend drive you or take a taxi. If you are travelling from afar to meet your date which requires you to stay overnight in a hotel, make sure you make your own accommodation arrangement and confirm the booking beforehand.
Don't get carried away
If you get on well with your date, don't let yourself get carried away. Never take your date home or go to their home. Stay in the public place you arranged and where your friend or family member knows you are going to be. If your date pressures you, end the meeting and leave immediately. If you do leave and your date follows, either go back into the public place you came out of or enter another, find a member of staff, explain the situation and ask them to stay with you while you call your friend or family member.
Don't leave drink or personal belongings unattended
Never risk having your drink spiked or your personal information stolen. If you leave your date to go to the toilet or make a phone call, take everything with you. If you don't want to take your drink to the toilet with you, take it with you and leave it somewhere and get another when you return.
Set up another date, if you get on
If you and your date get on well, by all means, set up your next meeting before you part ways, and remember to follow all the tips here until you feel comfortable and confident with your new friend. If your date is truly interested they will want you to feel safe.
An unsuccessful date
If the date didn't work for you then it is important that you tell them. It isn't fair to leave them hanging on. If you don't feel comfortable telling them face-to-face that you don't wish to see them again, then you could always send them a polite but firm email stating that you don't wish to have a second date, but remember to thank them for the first date. If you wish to tell them face-to-face that you don't want to arrange a second date, then make sure you tell them where there are other people about, just in case you get a bad reaction. For more advice see our article on what to do it a date does not work out and how to end a date.
Additional Resources