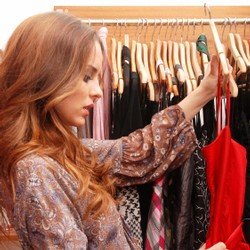 Regardless of the type of date you are going on, one of the most important rules for a woman is that your outfit isn't too revealing. Showing too much skin is not classy; it sends out the wrong impression. When choosing your outfit, avoid fabrics that are transparent and old items you possess that are now faded. You want to wear fabrics that highlight your figure, not draw attention to any flaws you may have.
Clothing suggestions for women:
Casual Date
You can't go wrong with a top that shows curves and attractive necklines, such as a fitted t-shirt. This type of top will go well with most trousers. Jeans are acceptable, as long as they aren't old and stained. A smart jacket or coat is suitable for colder months and a cardigan or shrug for cooler evenings.
Sporty Date
You will be fine with shorts and a t-shirt, but it's best to avoid hot pant style shorts and bulging vest tops. If the weather is cold, then modern jogging bottoms are suitable as opposed to shorts. Try not to overdress if going on a sporty date, you will only end up sweaty anyway, and overdressing may restrict your performance. Make sure that your trainers are fragrant free and don't look like you have washed them in a muddy puddle.
Classy Date
Most women take this opportunity to dress up and feel special. There is no need to wear a ball gown, but you do have the option of wearing a dress, a skirt or smart trousers. You can never go wrong with a little black dress, as long as it suits your shape. You can add elegant accessories to a black dress such as a brooch, chunky jewellery, delicate jewellery, a shrug, a stole or a stylish handbag. You can use these accessories to add some colour to the black dress. If you choose to wear a dress it doesn't necessarily need to be black, there are many other attractive colours to be worn, but it is best to avoid bright garish colours. If you choose to wear a dress that has a low back, then ideally it should have a high neckline. Alternatively, if the dress has a low neckline, then it should be high at the back. This helps to balance out the dress, otherwise, you will be showing too much skin and you will lose the classy look.
Additional Resources