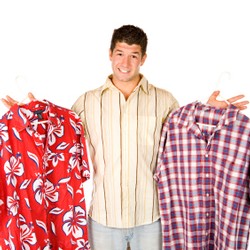 Deciding what clothes to wear on a first date can be a difficult and time-consuming decision to make. It is essential that you choose an outfit that suits your body and personality. Your outfit plays a large part in first impressions, so it is important that you get it right as you want to make a great first impression.
Be prepared
Don't leave your decision making until the last minute. You need to plan your outfit in advance, leaving yourself plenty of time to wash your desired outfit and even shop for a new one if necessary. It is also a good idea to have a back-up outfit, just in case something happens to the outfit you have originally chosen. You may have chosen your ideal outfit only to find it has a hole in it, or maybe it is slightly tighter than the last time you wore it, or you may even accidentally mark it with makeup or spill aftershave on it. This is when the back-up emergency outfit comes in.
Even if you know your outfit isn't stained and still fits, it's a good idea to try it on anyway just to make sure. The last thing you want is to put it on just before your date only to realise it isn't as perfect as you first thought and then panic at the last minute resulting in you being late for the date. It is also a good idea to try on your emergency back-up outfit beforehand to make sure it is clean and fits well. It is suggested that your back-up outfit is comfortable and easy to put on in quick time, just in case it is needed at the last minute.
Choosing the style of outfit
Try to wear appropriate attire for the chosen date venue. There is no point in wearing formal clothing if you are going on a casual informal date. You would look silly wearing a fancy party dress or a smart suit and tie if you are going bowling. On the other hand, you would stand out if you wore a casual outfit such as combat trousers or a sweatshirt to a fancy restaurant. Choosing appropriate clothing will make you feel more comfortable, plus make you look like you have made an effort. If you don't know where your date is taking you, then it is always better to be slightly overdressed. For example, a woman could wear a smart pair of trousers with a chic top and an elegant jacket or cardigan that can be taken off. A man could wear a smart pair of trousers with a stylish jacket that can be taken off to reveal a fashionable shirt. These suggestions would be suitable for both a formal date and an informal date, therefore ideal if you don't know where your date is taking you.
An outfit ideal for you
Choosing an outfit that suits you is not always an easy task. If you are unsure, it is a good idea to get help from your friends who are more than willing to give you their opinion. The idea is to emphasise your best features and show them off, which in turn will take the attention away from the areas of your body you aren't as happy with. Use bright colours or a pattern to draw attention to your best features. Jewellery is also a good way to draw attention to a particular area. For example, if you don't like your arms, but you have a good neckline, then an elegant necklace will draw attention to your neck as opposed to your arms. If you are a woman who happens to have wide hips, then stay away from hipsters; select an a-line skirt or dress instead which won't draw attention to your hips. Alternatively, an elegant top that drapes over your hips is another good way to disguise wide hips.
Trying to cover yourself up with baggy clothes will do nothing for you; you will only draw attention to the fact that you don't feel comfortable with your body. It is not a good idea to wear tight-fitting clothes either, especially if you are going out for a meal or going on an active date. Apart from being uncomfortable, tight clothes often end up making you look bigger than you actually are. Whatever style of clothing and look you go for, remember to dress to suit your age. For further advice please see our articles on style tips for dating and what to wear on a first date.
Don't be a fashion victim
Just because a particular style of clothing is in fashion, it doesn't mean that it will suit you. You may like the idea of wearing the latest fashion but you need to be realistic. If it doesn't suit you, then don't even purchase it. Being dressed in designer clothing can give the impression that you are high maintenance, which is not the impression you want to give on a date. You might feel great, but you may actually just look like a fashion victim. You also risk putting your date off you as they could think you are out of their league. There is nothing wrong with wearing a designer item of clothing, as long as you aren't obviously dressed head to foot in labels.
For some clothing suggestions for a man or woman, please browse the following articles; Clothing Advice for Women or Clothing Advice for Men.
Additional Resources